Wednesday, October 3, 2018
https://youtu.be/x2fJgH5kST8
Saturday, March 31, 2018
https://www.polygon.com/2018/3/30/17176166/ninja-twitch-logic-stream-code-of-conduct
Twitch explains how suspensions over conduct are handled after Ninja incident
It's a case-by-case basis
By Julia Alexander on March 30, 2018 11:15 am
Ninja/Twitch
The streaming community is under the magnifying glass once again after Tyler "Ninja" Blevins, arguably the biggest Fortnite streamer, dropped a racial slur during a Twitch stream.
Blevins later apologized on Twitter, saying he didn't want to offend anyone and chalking it up to a giant misunderstanding. Unlike other streamers and YouTubers who have been called out for using racist language during a stream, Blevins wasn't using it against a player or referring to anything specific in his Fortnite match.
Blevins was rapping along to "44 More," a popular song by Logic, but even that proved to be an uneasy answer for people. "44 More" doesn't include the word Blevins used. He explained, "I wasn't even trying to say the word—I fumbled lyrics and got tongue tied in the worst possible way."
Questions have now turned to what type of behavior can lead to a suspension or ban on Twitch, and whether Blevins will face action himself. Other popular streamers, like Steven "Destiny" Bonnell and WehSing "SingSing" Yuen, have faced retaliation over the use of the word. Then again, other streamers who have let the word slip, have it played in a song they're playing on stream or even see it flashing by in their chat haven't gotten suspended.
It can be confusing, and Twitch's own community guidelines aren't very helpful in discerning the correct answer. Asked for clarification, a Twitch representative told Polygon that this is the best way to understand when a streamer might face punishment for using of an offensive or derogatory term: "When reviewing reported content or activity, we will consider its intent and context."
"WE WILL CONSIDER ITS INTENT AND CONTEXT"
The use of a racist or derogatory term falls under the hateful conduct and speech section of Twitch's community guidelines — a subsection that was recently updated to ensure that community members understood Twitch was taking a more strict stance on hate speech and harassment. The company defines hateful conduct as "any content or activity that promotes, encourages, or facilitates discrimination, denigration, objectification, harassment, or violence based on the following characteristics," and notes that using terminology that falls under any of the characteristics is strictly prohibited.
The first one listed is "race, ethnicity, or national origin."
The guidelines also state, however, that Twitch's team will "consider a number of factors to determine the intent and context of any reported hateful conduct" to ensure that suspensions and bans are properly handled. This allows for certain terms to be used on stream in certain context without streamers facing a suspension.
The best example of this is lyrics. If someone is rapping along to a song and drops the term, Twitch's moderation team will take that into context. That doesn't necessarily rule out the chances of Twitch taking action, though, and people are asking for Twitch to make the rules clearer. Essentially, Twitch's code of conduct boils down to a case-by-case basis. The company doesn't have a one-size-fits-all rule for holding streamers accountable for the language they use on their streams.
Blevins acknowledged in his apology on Twitter that using the word, even in music, is wrong. He asked his fans to forgive him, and promised to do better.
"The best way I can explain it is that I promise that I understand how much pain that word causes, even if it gets used a lot in music and elsewhere," Blevins said. "It's a word historically used to divide people, and I'm about bringing people together."
MORE FROM POLYGON
Why is Fortnite Battle Royale so wildly popular?Sea of Thieves players are turning on the first 'Pirate Legend'Fortnite cross-platform crossplay guide for PC, PS4, Xbox One, Mac and mobileWestworld hid a terrifying commercial in its new trailerLayoffs hit Twitch as company readjusts some departmentsNow Fortnite is telling kids to stop playing in class
COMMENTS
If he's "accidentally" blurting out THAT word when he screws up, that says something larger about the way he thinks, imo. I screw up CONSTANTLY and have never once blurted out that word. So that's really an awful excuse.
I'm not saying he should be banned or anything, but he's probably got some issues.
Also, for someone who's supposedly raking in hundreds of thousands every month, can he decorate his room just a little bit?
By CrabbyCrabberson on 03.30.18 11:21am
I think there's an important difference between getting killed in the game and saying it in frustration or calling someone that, and what he did which is say it while (trying) to rap.
There's a clear difference in intent, even if it's not a good idea in either case. I really don't think it speaks to how he thinks, given how he acts generally.
"Also, for someone who's supposedly raking in hundreds of thousands every month, can he decorate his room just a little bit?"
This. Please. Add some flair, man.
By Hudelf on 03.30.18 11:27am
I think there's an important difference between getting killed in the game and saying it in frustration or calling someone that, and what he did which is say it while (trying) to rap.


I would get behind that defense IF it was actually in the song he was rapping, but he added it to a song that didn't have it in the first place.
even if it was in the song it's not okay, but there's some room for mistakes. adding it to a song where it doesn't exist is inexcusable.
By nos.is.lame on 03.30.18 11:52am
Surely you understand how a lyrical mistake could be made here. It's not like the genre is devoid of the word. Ok, it's been brought to his attention and made clear some people aren't cool with it. I really don't think there's cause to rake him over the coals for this.
By Hudelf on 03.30.18 11:57am
I absolutely agree that it was a mistake on his part and I'm sure he is genuine in his apology, but we're in the time where these guys are role models to millions of children. letting him off with just a simple apology is sending a message to them as well.
It may not be fair to punish him, but we have to be clear in our messaging to all the people that see him as a good role model.
By nos.is.lame on 03.30.18 12:02pm
I don't think he needs to be made the social pariah to make a point that the word isn't a good one. PewDiePie said the word in actual anger, directed at a person, and he was rightfully taken to task over it. He had also done other egregious things in the past that pointed to him having a flawed belief system. That's a case where it was clearly wrong, he absolutely should have been punished, and he was.
I don't think any of that applies to Ninja. Malicious intent is extremely important when deciding the severity of consequence, and I just don't see it here.
By Hudelf on 03.30.18 12:32pm
I don't think any of that applies to Ninja. Malicious intent is extremely important when deciding the severity of consequence,


I absolutely agree, but just because someone else has done worse doesn't mean he should get away free. I don't think he should have everything taken away, but there should still be consequences. Maybe just a 1 or 2 week suspension just to show that it's not okay.
If you kill someone on accident you still have consequences. Malicious intent isn't necessary in doing something wrong.
By nos.is.lame on 03.30.18 12:39pm
"Malicious intent isn't necessary in doing something wrong."
Totally. That means we're just disagreeing on the severity of punishment. I personally think the fact that several articles came up and called him out made this clear enough for the circumstances.
If he does it again, take further action. I think suspensions in that case could be warranted. The guy has a crystal clear background from my knowledge. This was his first social slipup, I think a warning is an acceptable response.
By Hudelf on 03.30.18 12:44pm
I'm with nos.is.lame – if it were lyrics in the song it would be one thing, to add them to the song on your very own is something entirely different. That's not a mistake you make unless it's already ingrained in how you think. Doesn't matter what genre of music it is.
I'm not saying he needs to be raked over any coals, though. But he should know that not everyone's buying his excuse. And, really, trying to explain himself didn't help matters. Just say you screwed up and won't do it again.
By CrabbyCrabberson on 03.30.18 12:13pm
Yeah, in my eyes the whole "it was a misunderstanding" excuse hurt him more than saying the word itself. Admit you fucked up and accept the backlash. Don't try to explain it away.
By nos.is.lame on 03.30.18 12:59pm
If it's in a song it's 100% okay. No question there. Don't add words you don't want said to something people will obviously sing along to. This is not one of those cases, this was just stupid and he should face some consequence.
By HDC102 on 03.30.18 3:56pm
Ninja uses stereotypical epithets all the time. When he plays "Duos" with KingRichard, he calls him "Boy" a lot. KingRichard is a black man. Ninja does not call any other teammates "Boy". Racist? idk. Brain patterns are learned from the environments we grow up in.
WW2 and Vietnam War soldiers were taught "gook", "chinq", "kraut", "jerry" to create rage and survival techniques to kill and stay alive. Word and thought association. Were they racist soldiers? Most of them were not.
Ninja plays with accents from all over the world. Racist? No.
Everything is open to comedy. Ninja just flows. He is not hateful. He is just reacting to electrochemical processes on the fly. He expresses all emotions, often times diva-esque, however, he is not hateful.
"N-word" is just an electrical signal the mouth makes. Context determines the intention. Life is 90% intention & 10% technique.
Ninja is a performer and his intention is to play video games, make money, have a laugh and provide for his family. Create joy. Anyone that sees his stream knows this.
Humans have a tendency to overthink it. Twitch is just covering its butt.
By dfisch on 03.31.18 12:44am
It's okay guys, his best friend is black.
By oncewasblind17 on 03.30.18 11:34am
Seriously though, I can't bring myself to be offended over this. I can only assume his affiliation with Drake spurred an interest in rapping for him. So he attempts to do so on stream, and for the briefest instant, forgot that this one word is off limits.
By oncewasblind17 on 03.30.18 11:40am
I have an interest in rap too. I've been listening to rap and rapping along with it since I was in middle school. not once have I ever "fumbled" or forgot that a racial slur is off limits.
That's not an excuse. not even close.
By nos.is.lame on 03.30.18 11:44am
Christian rap doesn't count.
By aloe on 03.30.18 11:45am
wow. aren't you edgy and clever
By nos.is.lame on 03.30.18 11:47am
Saw a cheap shot, took it. Sorry.
I respect what you're saying, but I'm not that fussed by this one. It's certainly a ways removed from that pewdiepie dipshit who got killed in some game and straight up shouted it at his opponent. That's racism on the brain, this is a slip of the tongue.
By aloe on 03.30.18 11:55am
It's not 'off limits'. Some people just feel guilty about it. I think if the lyric is in the song, then you should be able to sing the entire lyric if you want to.
If you don't support that lyric, then you probably shouldn't be singing the song at all.
It bothers me when people are offended by one person singing a lyric but completely fine with another person singing the same lyric. It's either offensive or it's not.
By Lerkero on 03.30.18 12:05pm
the person saying it can make all the difference in the world.
Think of it this way: if you're with a group of friends and you're all making fun of each other you all laugh and have a great time. If you're in a group without your friends and they all start making fun of you then suddenly you're not having a great time.
a very basic comparison without centuries of intolerance, murder, and hate behind it.
By nos.is.lame on 03.30.18 12:09pm
So basically Twitch has the same rules as Youtube "We will ban or suspend anyone that does this…unless of course they're currently brining in hundreds of thousands viewers"
By nos.is.lame on 03.30.18 11:45am
Hell to the yeah. I'm reminded of this interview with Dick Gregory.
Its like; these are just entertainers, no one is going to remember them 50 years from now, and they are not the ones to fight for the right thing.
By NYCman100 on 03.30.18 11:57am
Why are people saying this is racism? Is there that fundamental of a misunderstanding? A white person saying the "n" word isn't a racist situation unless the intent was to be malicious.
Racism is when you use racial epithets in a hateful manner, derogatorily. A racist is someone that sees another skin color as inferior without knowing anything else about that person.
What isn't racist is a white person mistaking the next lyric in a rap song with the "n" word in a genre of music that is known for using that word pretty liberally. If you have an issue with this, you simply have an issue with the genre all together. As you wrote:
The company defines hateful conduct as "any content or activity that promotes, encourages, or facilitates discrimination, denigration, objectification, harassment, or violence based on the following characteristics," and notes that using terminology that falls under any of the characteristics is strictly prohibited.


You know the old saying: intent is 9/10ths of the law. If Ninja's intent wasn't out of hate, then there is nothing to see here. Considering he wasn't talking directly to anyone – he was just singing a song – I'd say that it's pretty likely that his intent wasn't malicious.
By OmfgWtfZergd on 03.30.18 12:15pm
"Intent is 9/10ths of the law" is not the old saying, it's "possession is 9/10ths of the law".
In fact, "ignorance is no excuse for breaking the law" is actually a saying… in other words, your intent matters VERY LITTLE to the law. If you get arrested wearing a jacket that someone else stuck their weed in, you're still going to jail for that weed. Your "intent" to sell or smoke or ignore it doesn't really matter, except a little bit when it comes to sentencing, sometimes.
By mrpapercuts on 03.30.18 1:44pm
"your intent matters VERY LITTLE to the law"
Speaking from the US at least, this is very much not the case. There's a reason why we define multiple degrees of murder, manslaughter, reckless homicide, etc. They have different levels of intent, and therefore carry different punishments.
By Hudelf on 03.30.18 1:57pm
© 2018 Vox Media, Inc. All Rights Reserved
Wednesday, March 28, 2018
https://www.wehoville.com/2018/03/27/opinion-2050-west-hollywood-green-grown/

Opinion: It's 2050, and West Hollywood Is Green and Grown-Up
Tuesday - March 27, 2018 by Carleton Cronin | 6 Comments

Part utopia, part reality, West Hollywood in 2050 is an example of the vitality and vision needed to go boldly into the next half of the 21st century.
Legal adaptations have been made to land use. So today we have Residential Improvement Districts (RIDs) that are made up of like-minded residents who have pooled their resources to rebuild certain areas of both the Westside and Eastside. On the smaller streets that contain the older, single-family houses those houses were removed and replaced by one- and two-story town houses, often with an additional house or two on each side of the block.
The houses have been constructed to Zero Net Energy standards and the latest green building requirements. All are connected to a grey water system and all have supplemental solar systems and are tied to a solar grid elsewhere, with battery or generator backups available.
Streets have been abolished. Today alleys at the rear of buildings are used for deliveries. Because the only vehicles now allowed in the city are small electric carts, often community-owned, the space once occupied by streets has been converted to gardens for fruit and vegetables or into open spaces for recreational use by a block's residents. This is how homeowners live in 2050.
As was the case 30 years ago, the bulk of WeHo's population is made up of renters. With the abolition of combustion engines in vehicles, and the requirement for community-owned electric carts, many parking lots and even a few parking garages now house affordable living places. Commercial streets sport four- and six-story mixed use buildings. The ground floors contain many of the small specialty shops that provide everyday items within walking distance. Upper floors of those buildings contain affordable apartments. The city has used its grant process to erect many of these buildings.
Some local hotels have banded together to build subsidized living spaces for their employees, who now live closer to where they work. Commercial entities need a stable workforce, so other businesses with large work forces have made similar arrangements. These changes have increased the city's population – and made it into the "walkable city" we envisioned when cityhood was being touted in the early 1980s. Today, West Hollywood is a more cosmopolitan city where busboys rub shoulders on the streets with interior designers, artists, business execs and retired folks. A real city.
Thankfully, well before 2050 METRO had pulled its head out of the tunnels and finally wove a web of above-ground trolley and bus routes. Anyone now has access to reasonably price transit, which includes many more stops to connect all parts of Los Angeles county. Harking to the past, all but some long suburban l routes are the realm of electric vehicles. Noise and dirt have been greatly reduced, and people are healthier as a result.
Some of the routes are completely automatic. A user buys a ticket to a certain destination, and the ticket, with its coded information, informs the vehicle's computer as to where the rider wants to get off. Doors open and close on demand only at those stops . Of course, a central computer -with operators attached – monitors the whole business. The city has maintained its own shuttles because, visitors to this resort destination want to decide their destinations. Free use bikes are also available. But caution: they become disabled if a user tries to roll over the city's boundaries.
WeHo continues to be a high-end shoppers destination with all the well-known designer labels and shops along Melrose Avenue and Robertson, La Cienega and Santa Monica boulevards. There is no one "restaurant row" but several that add to the city's attraction for tourists.
The owners of a fair number of the city's commercial buildings have affixed signs to their building – city-approved signage, of course – that proudly calls them out. In other words, if the building is known as the Verizon Building, then Verizon built it and rents the space to other commercial units. Very old-fashioned, I know, but that has been another way to get good buildings onto the city's commercial streets.
Someone from 2018 probably would scratch his head when he looks at the city's demographics this year. In 2050, the large LGBTQ population has not diminished at all. Still about 35% of WeHo'ans enjoy the city for its inclusion of that group. However, with the greater choice of living places in West Hollywood, there is no one area that lays claim to the LGBTQ group. Boystown still exists in all its vibrancy and color, and the annual John Duran Prize for the best costume during the Pride Parade is much sought after.
There also are now several recognized forms of "family." The once uncommon sight of two men or two women walking with an infant in a pram or corralling a rambunctious toddler is an everyday event. Family firms have brought a different flavor to the city and increased the number of children here. The city now has its own school system and, though small, it is a model for other cities. Two-year-old children now celebrate a rite of passage by successfully ascending the full length of the Heilman Steps in West Hollywood Park to the swimming pools above.
Because there still are so many single men and women, the median age remains about 36, and men still outnumber women in West Hollywood. The senior population has always been a mainstay of the city. Now there are senior living quarters for all — especially older gay men and women who tend to be alone in the world. They no longer have to move away to find a place they can afford.
To sum up: the city remains more vital and attractive because of its cultural diversity.
Crime is only a sometime thing now that neighbors know one another better and a strong Neighborhood Watch program exists. The desire to help one another in times of great stress has enabled the CERT program to expand into every block and every residential building. No longer will residents wonder what will happen to them if they find themselves in dire physical need because of a fire, an earthquake. Neighbors helping neighbors. The city still contracts with the L.A. County Sheriff's Department, whose deputies now patrol on bikes and in foot patrols. Crime is still with us but far less than in 2018.
Change is inevitable, but it must be managed, and it is those now in city government who initiated the principal changes and have monitored them and responded to the residents. So much has been changed in the city and in the daily lives of its residents that city planners and code writers have been seen wearing sackcloth and ashes and entering convents and monasteries to atone for their past sins and pray for enlightenment.
And by the way, voters now engage in municipal elections — with more than 65% of those registered casting votes.
After decades of stumbling through its childhood and teenage years, the City of West Hollywood in 2050 is 66 years old. It has finally grown up.
Tags: 2050, west hollywood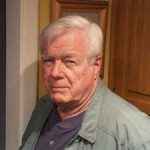 About Carleton Cronin
Carleton Cronin and his wife, Toby Ann, have lived in West Hollywood since 1974. They have raised four sons here, and Cronin has long been an astute observer of civic life.
You Might Also Like:
Report Says LA County Gay, Lesbian Hate Crimes on the Increase
WeHo-Based StudyMode Named One of L.A.'s Best Places to Work
WeHo's 'One City One Pride' Continues with Film Screenings, Tours, Exhibits
WeHo Parking Meters Not Enforced on Tuesday for Cesar Chavez Day
6 Comments
Larry Block
Enjoyable fun read by a very special author! Hope to take the trolley to Manny's Christmas party!
Robert Switzer
This reminds of the city of the future predictions from the two New York World's Fairs. Very little of the utopian look at the decades ahead came true. I fear in West Hollywood if the trend continues of having a city council with a 3-2 majority that never sees a development proposal it doesn't like, we will wind up with an overbuilt, overly congested city with nothing but shuttles to haul people to mass transit lines that won't be extended to West Hollywood by 2050, the year I will turn 100. I wish I could predict that I'll live to see what actually happens.
RobbyDobby
32 years from now I expect the City will look much as it does now. Certainly there will have been more development, both needed and unnecessary, but the basic bones of West Hollywood will likely be as they are now. Having lived in the City for 23 years, I've seen a lot of change but not nearly as dramatic as one might assume. Many of the ideas put forth here are highly idealistic and while it's good to dream, it's also good not to let your imagination run away with you. Private vehicles will never go away as a form of transportation. It's in the American DNA. Before automobiles it was horse and buggy but the idea was the same. Freedom to travel without dependance on others and in your own time frame. Many of the rail projects now on the books won't be finished until nearly 2050 anyway. Adding more light rail will cost many billions more. Only so much money is available for such things. It's only 32 years from now after all and change moves at a slower pace than we might think…
Joshua88
I hope for a future without a Verizon building.
Otherwise…
Manny
"Now (in 2050) there are senior living quarters for all — especially older gay men and women who tend to be alone in the world. They no longer have to move away to find a place they can afford"……….Wouldn't that be nice.
Thanks for the interesting read Carl!
Mike
The idea is somewhat a future reality. New innovation, technology, transportation modes… It will be a new city driven by forces of the market and need of future population(s).
However, if your trying to place fear in the resident's of West Hollywood today; the rendering is over-the-top and ugly.
Whatever is to be. Creative, progressive and innovative that is aesthetically pleasing through Land Use, Parks that are open and green, Affordable Housing for that is equivalent to todays approaches and new, yet to be envisioned affordable housing.
I hope people don't assume the above rendering is the future. Creative and Progressive design in all area's will prevail for West Hollywood. What that will look like is to be.
Leave a Comment
No profanity, and please focus on the issue rather than attacking other commenters.
Comment
Name *
Email *
Website
Let WEHOville Email the News to You
About UsContactAdvertisePrivacy Policy
© 2018 WHMC LLC - All rights reserved.